CAREER
FOR JOB
Want to be a Chess Coach ?
If you are interested in training others to improve their skills, here we help you. We will provide you the Trainees whom you can train. Benefit of training others is that you keep yourself in touch with the games and also know the mentality of new comers. You can help someone to make a good career in the profession of chess. If you want to join Champions Chess Centre as a Chess Coach either part time or full time, kindly mail your CV to jaiswalpuneet@yahoo.co.in
FOR FRANCHISEE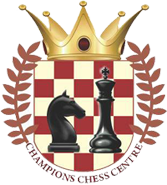 Want to Start a Chess Training centre ?
If you have several Chess Trainees and want to start a chess training centre so that you can train them for a better future but are not eligible/want to register your own institution brand, Here we help you! We will give you franchisee of Champions Chess Centre so that you can open your own institute and train your student in your comfort zone. If you are looking for franchisee of Champions Chess Centre at you place kindly send the details at jaiswalpuneet@yahoo.co.in